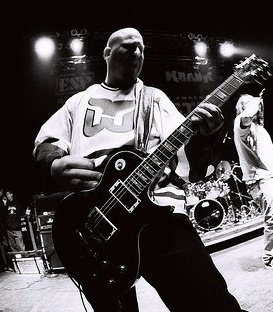 Mike Livingston
Founder / CEO / Producer
Ear One Productions founder Mike Livingston has been a major contributor to the Connecticut music
scene and beyond since 1985 as a musician, producer and a dj when he started a radio show on 88.7 WNHU out of The University of New Haven during college.   Mike's show every Saturday night from 9 to 12 became very popular in CT and Long Island, NY and was one of the first crossover shows on the East Coast to mix Metal, Hardcore and Punk.  He interviewed and promoted all his favorite bands from Slayer to Agnostic Front and Metallica to D.R.I. and many more.  Mike helped book and promote Megadeth's first three shows in CT and by the third was introducing the band when they were on Capitol for the Peace Sells Tour.  He also booked bands like King Diamond, Exodus, Voivod, Malice and Celtic Frost for their first shows in CT.    Mike also worked at the New York office of Metal Blade Records when it first opened for half a year learning that side of the business as well.    In 1987 and 1988 Mike was a guest speaker at The CMJ Convention in NYC.
Mike began to play and promote local bands on his radio show  "The Connecticut Metal Show"  which immediately led to him producing and booking these bands to give them the best sound possible while getting them exposed on the radio.   All of this while Mike sang and played lead guitar in various local bands such as Radium, Atmosfear, Smoke The Prophet, Black Wytche and Drained of Life.   He then became a journalist writing for the national magazine Aardshock America as an East Coast Correspondent and writer having his interviews published with Iron Maiden, Megadeth, Tesla, Wendy O'Williams, Obsession and more.
While continuing to produce local bands in 2003 Mike joined New York Hardcore band 25 Ta Life on guitar touring all over the US, Europe, Canada and Mexico. In 2004 Mike left 25 Ta Life to join Connecticut's Hardcore heavyweights 100 Demons. He toured in over 40 countries with 100 Demons on lead guitar and vocals and was also in their video for the song "Repeat Process" which found its way onto MTV's Headbangers Ball as well as every other major video outlet.
When 100 Demons split as a full time touring band in 2007 Mike began to focus again on the local scene this time with his production company and by building a new recording studio. As Mike began to record a lot of talented CT bands it became clear that these bands needed help getting their music out. This is why Ear One Productions the record label was born.   After a lot of encouragement and help from long-time friend and business associate Jay Reason Mike launched Ear One the record label.  In February, 2012 Jay officially became Ear One's Label Manager and Director of A&R.   Mike became CEO and Executive Producer.   Mike holds a Bachelor of Science Degree in Communication from Southern Connecticut State University with a minor in Music and Sound Recording.
Jay Reason
Label Manager / A&R
Jay Reason is a musician, graphic designer and digital content creator from Connecticut. He was the lead singer and founder of hardcore punk bands Voice Of Reason and The Distance, and is the current frontman for Blackened. Hired by Hatebreed frontman Jamey Jasta, Jay Reason was label manager / A&R of Stillborn Records from 2001 – 2007
Jay Reason grew up in the hardcore punk scene in Connecticut where he would book shows for touring artists as a hobby. He soon formed his own group, Voice Of Reason, who were widely recognized throughout the hardcore punk scene after their signing with Triple Crown Records. The group broke up in 2001 and Jay took a full-time position at Stillborn Records as label manager / A&R, hired by label founder Jamey Jasta of Hatebreed. Jay would later form The Distance, who started out as a hardcore punk band on Bridge 9 Records but ultimately were reaching for more commercial success with their signing to Abacus Recordings. The band would remain relatively inactive in the years to follow, although no official break up has been announced. Jay would later form metal act, Blackened, alongside current Hatebreed bassist Chris Beattie, original Hatebreed drummer Dave Russo, and Fastbreak guitarist Chris Legg. In 2012 Jay has teamed up with long time friend Mike Livingston to create a new home town label with focus on artist development and preparation for bands to "take it to the next level". Jay brings over 15 years of experience to the roll following stints with Sony Music, Jive Records and various independent artists / label consultations, signings.